Mother's Day is a special occasion celebrated every year to honor the mother figures in our lives. Many people think of Mother's Day as just another day in our daily lives but for better or worse, it is a special day to show our appreciation for all the love, care and support our mothers have given us over the years. And there is certainly no better way to express our gratitude than a beautiful bouquet of flowers!
Flowers have long been associated with Mother's Day for a very simple and important reason. They are a symbol of love, gratitude and appreciation and can convey our feelings in a way that words often fail to do. An impressive bouquet of her favorite flowers can brighten up your mom's day and show her how much you care about her.
When you give your mom flowers for Mother's Day, you're not just giving her a beautiful gift, but a tangible expression of your love and appreciation for her. The time and thought you put into choosing the perfect bouquet speaks for itself.
In many ways, flowers are the perfect gift for Mother's Day. Their timelessness and variety offers a plethora of options to suit any taste or style. From classic roses to vibrant tulips and modern succulents, there's a flower out there that's perfect for every mom.
When does Mother's Day fall in 2023?
If you haven't noticed, Mother's Day is not only mobile but also changes from country to country. In most of course it is celebrated in May with the exception of countries in the southern hemisphere where most celebrate it during the winter months. In Greece, as in most countries of the northern hemisphere, Mother's Day is movable and is always celebrated on the second Sunday in May.
2023: Sunday 14 May
2024: Sunday 12 May
2025: Sunday 11 May
How to make your mom feel special with the right flower arrangement on Mother's Day
Now that we've made sure we're not going to forget Mother's Day for the next three years, there's no better way to make your mum go crazy than with a carefully selected flower arrangement. But with so many options available, it can be difficult to choose the right flower that matches her personality and taste. So you might need some of the following tips.
Think about what her favourite flowers are
While any flower arrangement will be duly appreciated by your mom, it would be even better if you consider her favorite flowers. If you're not sure of her favorite flowers, ask a family member or friend who might know. You can also try to figure out what kinds of flowers she likes by observing the flowers she has at home, on the balcony, in the yard or ones she may admire when you are outdoors.
Incorporating her favourite flowers into the arrangement you choose shows that you really care about her preferences and that you have put thought and effort into creating the perfect gift for Mother's Day. For example, if she likes roses and lilies, you can choose a bouquet that has both flowers in a harmonious and elegant floral arrangement.
If you are struggling to find her favourite flowers, then feel free to contact LouloudiaOnline to help you choose the perfect flowers for your mom.
Upgrade the bouquet with a vase
The right presentation can make the bouquet stand out even more and make it more special. So what better than a vase that will also contribute to the decoration of your mother's home. From rustic or vintage to the most modern decor, an elegant glass or ceramic vase is or best choice for an even more complete gift for Mother's Day.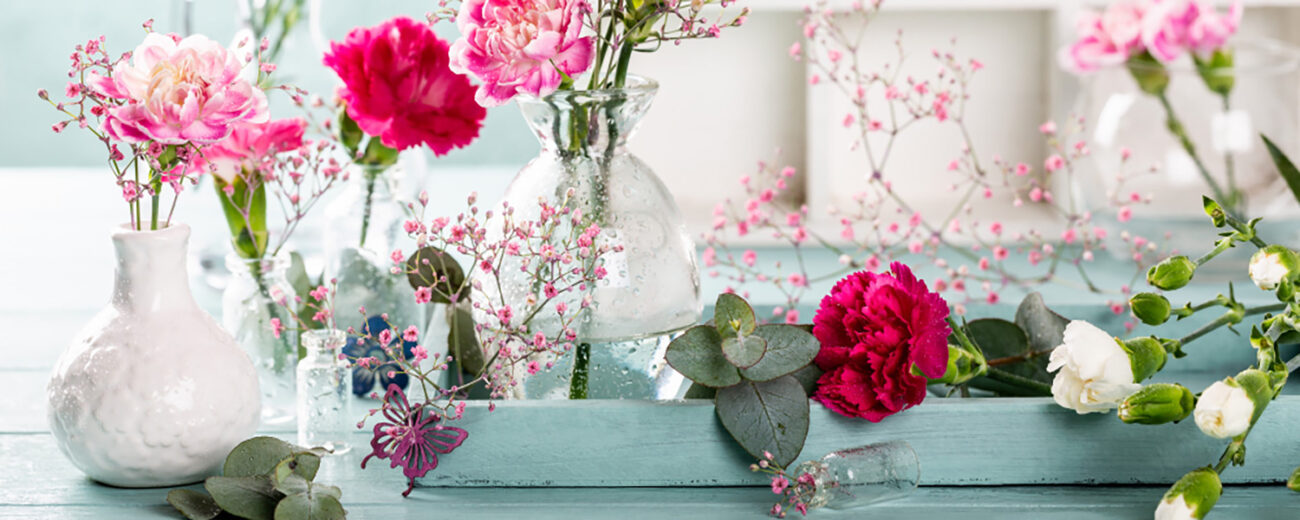 Decorative Vases
Surprise her with a flower delivery service
Surprising your mom with a beautiful flower arrangement on Mother's Day is another wonderful way to show your love and appreciation. And with the help of LouloudiaOnline, you can deliver flowers to her doorstep whenever and wherever you want.
In Thessaloniki, LouloudiaOnline can deliver your order the same day, making sure your mum receives her flowers exactly as you ordered them. For those outside of Thessaloniki, our florist can deliver your order anywhere in Greece within three days.
The advantages of flowers for Mother's Day over other gifts
Flowers and plants are often considered an extremely special gift simply because:
They add beauty and freshness to any space. They can instantly brighten up a room and add a natural touch of beauty and freshness, creating a more inviting and comfortable environment in your mom's home.
They have a positive impact on mood. Countless studies have shown that flowers can improve mental health, help reduce stress, and provide well-being and relaxation.
They symbolize love, appreciation and gratitude. By giving your mom flowers you are essentially showing her how you feel without words.
They can be customized to suit any taste and style.
Unlike many other gifts that can be wasteful, meaningless or even harmful to the environment, flowers and plants are the gift choice that your mother will enjoy for weeks, months or even years depending on your choice.
Celebrating Mother's Day with Flowers: A Timeless Tradition
Whether you are looking for a classic bouquet of roses or something more special, at LouloudiaOnline you will find the perfect composition to match your mum's taste. From vibrant tulips to delicate lilies, our selection of flowers is sure to impress and move.
At our florist, we pride ourselves on using only the freshest, highest quality flowers in all of our arrangements. We work with local growers to ensure that every plant we use is healthy and vibrant, so you can rest assured that your mom's flowers will look and smell amazing.
But we don't just stop at flowers. We also offer a variety of gift options to make your mom's day even more special. Choose from our collection of chocolates, drinks, scented candles, room decorations and many more options to create the ultimate gift for Mother's Day.
Ordering from LouloudiaOnline is quick and easy. Simply browse the website, choose your favorite flowers and gifts and we will take care of the rest. We offer fast and reliable delivery to ensure your mom's gift arrives on time and in perfect condition.
So this Mother's Day, consider showing your love and appreciation with a stunning bouquet of flowers, a simple but meaningful gesture that will surely make her day a little brighter and show her how much you care.