How to decorate your home with original Christmas wreaths that helps the holiday spirit to cross your doorstep.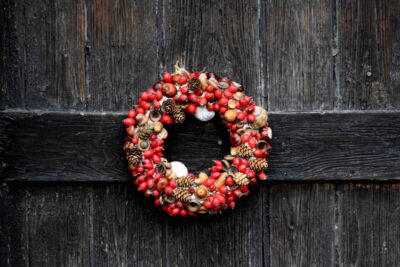 As we are in the middle of December and Christmas is less than a decade away, it is the right time to see how we can update the Christmas decoration of our home. Most of us already have a classic collection that we use every year and start setting up as early as November. However, every year we feel the need to add to our collection, some new pieces that will make us feel refreshed and give our space a new lease of life. An alternative proposal is therefore the Christmas wreaths that allow the Christmas spirit to cross your doorstep and can be a fantastic gift for your loved ones.
Below we will see what Christmas wreaths are, why they are worth choosing, where you can hang them and how to decorate your home with them.
Everything you need to know about Christmas wreaths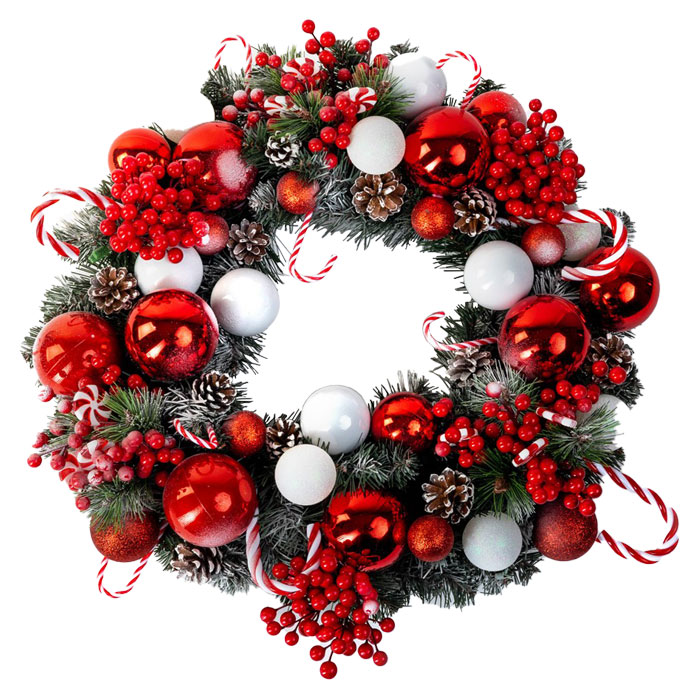 Christmas Decorative Wreath with marshmallows in Red 60cm
The Christmas Collection of LouloudiaOnline is here !
The original Christmas wreaths are nothing like the classic Christmas door wreaths that our mothers used to hang at home. They come in different variations, in several colours and are filled with shiny Christmas balls, pine cones, ribbons and candy canes. The most popular colours are red, blue and pink, which you can choose from depending on the rest of your home decor.
What I love about the Christmas Collection's Christmas wreaths is that they can fill a room with their volume without having to do much or spend a lot of money. In short, it's enough to beautifully decorate a home over the holidays with elegance. In fact, the biggest advantage of handmade Christmas wreaths is that they last forever. Therefore, their durability combined with their timeless design gives you a Christmas piece that you don't have to replace, no matter how many years pass. It is no coincidence that the wreath is the symbol of eternity and has been considered since ancient times to bring good luck and happiness.
Where can you place the hanging Christmas wreaths?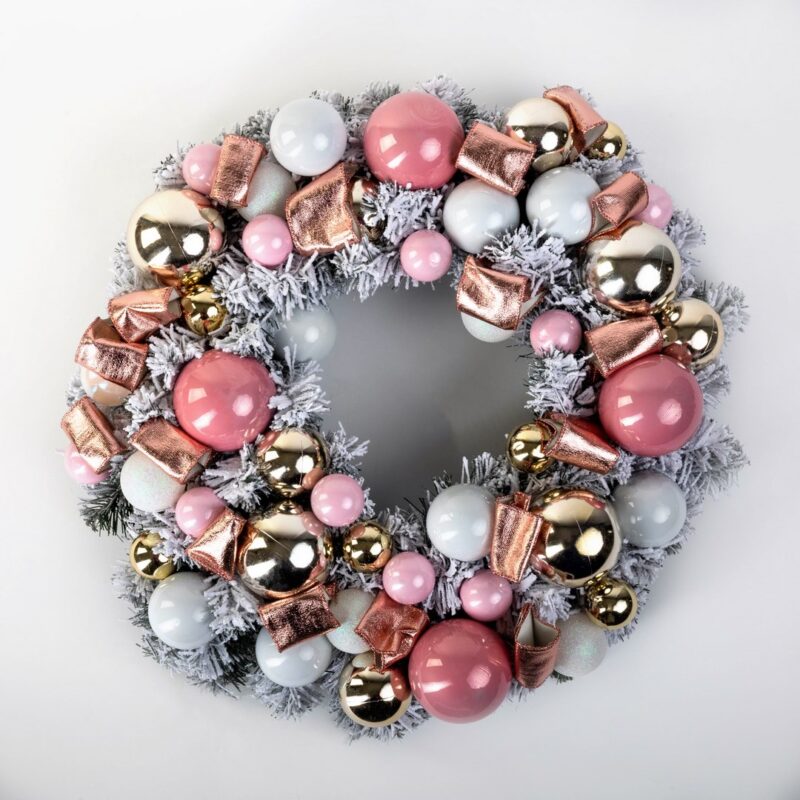 Christmas Decorative Wreath in Pink 60cm
The Christmas Collection of LouloudiaOnline is here !
The most common choice is the Christmas door wreaths which are hung on the front door of our apartment and welcome our guests with a Christmas mood. In fact, I remember that it is traditionally customary to join two wreaths with a ribbon and place one on the inside of the apartment and one on the side of the front door that faces the hallway of the apartment building.
Great locations, depending on the specifics of each home, are your window or balcony door, the wall light and the bookcase. A classic option that will always be one of the most popular is none other than the fireplace. I don't think there is anything more Christmasy than a lit fire and a tasteful Christmas wreath over it.
Alternatively, an original idea is hanging in front of a mirror. This will give it even more volume and make it look even more impressive. Don't forget that you don't always have to hang your wreath. You may as well place it on a shelf or on a piece of furniture along with other decorations. Also for me it is a fantastic alternative for those who don't want or don't have room for a Christmas tree.